Executive Briefing Center
Collaborate. Innovate. Explore your IT possibilities.
SHI's Executive Briefing Center in New Jersey hosts a wide range of customer-focused technology and business events every year. Discover how you can take advantage of this amazing facility.
View upcoming events
Solving business challenges is about more than just great technology. It takes learning, collaboration, and innovation. That's what the Executive Business Center is all about.
For many SHI customers, their technology journey starts in the Executive Briefing Center (EBC). It's where organizations large and small come to work through business challenges, explore new technologies and network with peers and thought leaders.
Located in our world headquarters in New Jersey, the EBC is a short drive from Newark Airport making it easy to get to for both domestic and international visitors. From small intimate huddles to large general sessions, the EBC is equipped to host a wide variety of events for SHI customers and partners.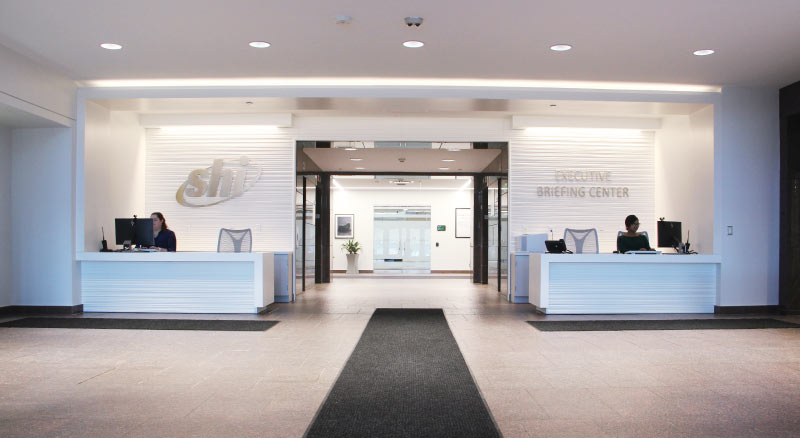 One Facility: Many Uses
The Executive Briefing Center brings together customers, partners and SHI specialists in a purpose-built facility designed to meet all types of requirements:
Account Meetings and QBRs
Our team is ready to welcome you for your next major account meeting or quarterly business review. Take advantage of your time on site to meet SHI specialists and tour our other facilities.
Training Programs
SHI's in-house trainers can host your staff on-site for specialist training on the latest products and technologies. Leave it to us to make the right technologies and facilities available.
Networking Events
Take advantage of SHI's 15,000-strong customer base to extend your network and meet with like-minded IT and procurement professionals from across the USA and beyond.
Partner Showcases
Find out more about the solutions offered by the wide range of partners in our network, and keep up to date with their new products and offerings by joining us for our partner showcase events.
Facilitating Your IT Strategy
The Executive Briefing Center in New Jersey is co-located with SHI's state-of-the-art Customer Innovation Center (CIC), a custom facility designed to help you explore innovative technologies that support data center operations, remote working, and customer experience. The CIC is packed with the latest servers, networking equipment, end user devices and accessories such as VR systems, collaboration hardware and workplace solutions.